Chameleon Classic
The weather portion no longer works because Yahoo removed the weather API that it depended on.
The old version of Chameleon for Windows Vista & Windows 7 that changes Aero Glass colors based on the weather and other factors, instead of the desktop wallpaper, like the current version does.
Requirements: Windows Vista or Windows 7 and .NET Framework 4.0 or higher
Written In: VB .NET
Multiple modes
Your Aero Glass settings can be adjusted with 13 different modes.
The modes include: current wallpaper, screen, random, webcam, battery, time, weather conditions, temperature, humidity, wind speed, cursor x position, and cursor y position.
---
Adjustable color
Colors can be adjusted for each range within a mode.
For example, if your mode is temperature, you can set a custom color for 10°F to 19°F, 20°F to 29°F, and so on...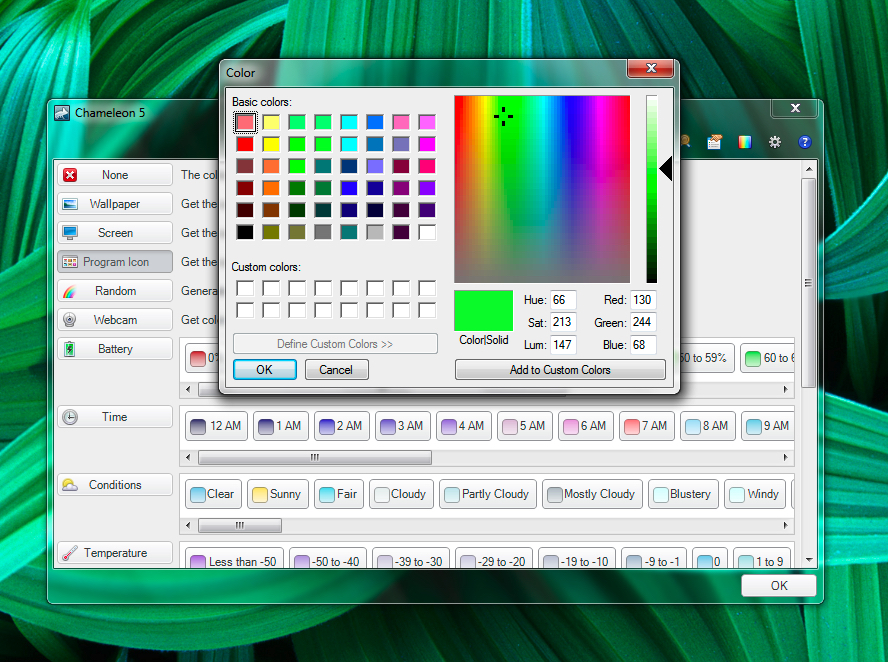 ---
Advanced tweaking of Aero
Besides adjusting just the color, like the built in Window Color and Appearance section in the Control Panel, Chameleon can also adjust multiple other parameters.
This includes enabling/disabling opacity, setting the color balance, afterglow balance, blur balance, and glass reflection intensity.
---
Runs in the background
Once you're done configuring the settings, Chameleon will run in the background.
It will minimize to the system tray and clicking its icon will restore it.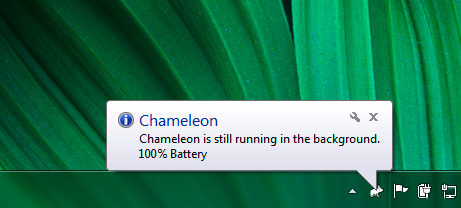 ---
Change settings
Chameleon's behavior when running can be adjusted in the settings dialog.
You can adjust how often you want weather data to be fetched and how often Chameleon will refresh the Aero Glass color.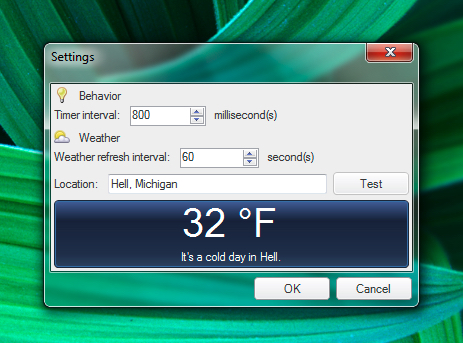 ---
Themes
When you find a configuration you like, you can export it as a theme.
Themes are stored as a single file and can easily be imported and exported between computers.